Charles Gayle Trio + Matthew Shipp Trio
Chicago IL, 1 September 2000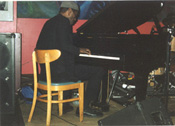 In the eight years I've been aware of Charles Gayle's music I've had six opportunities to hear him in concert. Prior to catching the date recounted here, five out of those six had been met with defeat stemming from a variety of circumstances, most common among them a cancelled performance. On this sixth attempt my luck finally came through and I finally caught the man in person. The performance he delivered was more than worth the stings of previous disappointments.

Descending upon the Hothouse, one of downtown Chicago's most decorative and personable jazz clubs, Gayle's entrance was more like a whisper than a roar. Spotting him enter and make a beeline for a shadowy corner across the bar I approached him to ask whether he would mind me taking photos of his performance. He nodded agreement and we shared a brief conversation before I hastily returned to my seat. Bassist Harrison Bankhead and drummer Avreeyal Ra arrived shortly after and the three convened on the stage in front of a modest audience, which was soon to grow to a sizeable crowd. After brief announcements that included the startling revelation that it had been seven years since Gayle's last Windy City engagement, the stage lights dimmed and Gayle took his place at the piano stool.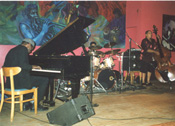 Though piano is his first instrument, Gayle's work behind the keyboard has never been lauded by the critics. Based on the atrophied interplay that characterizes Illuminators, his recording with Sunny Murray, it's easy to see why the applause has been so reticent. While containing arresting playing from both musicians the session is very much akin to listening to two players in separate rooms. For the most part such was fortunately not the case in the company of Bankhead and Ra. Gayle started out soft, pressing plaintive, blocky notes between the cymbal swish of Ra and the stray bass throbs of Bankhead. Soon the intensity quickened and Gayle turned to splashes and flurries stabbing out Cimmerian chords in stuttering stops and spurts. Ra, galvanized by the shift in energy, upped the ante in a cloudburst of thunderous drums. Gayle's simple staccato patterns, designed presumably to hammer the eardrums, answered as his feet worked the pedals building cavernous sustain. After a short and checkered solo he dropped out leaving Ra to make prodigious use of bass drum with cowbell accents before a brief ensemble reentry.

Next up, Bankhead moved to the fore shaping a solo from a pulsing, dissected ostinato line. Gayle sat at his stool, still as a statue, head bent in rumination before his fingers flexed, shot forward, and again crashed against the keys. Bankhead's accompaniment at this point became so profuse that the flurry of notes streaming from his strings lost definition and disintegrated in a clouded wave of excess. Seeming to sense the upset, Gayle signaled an abrupt ensemble close.

The trio's second improvisation was far more lyrical in texture as Gayle executed light trills across the keyboard flanked by Ra's light brush accents. Bankhead's fingers were again a blur however and ill fitting with the balladic nature of the piece. After what looked like a missed visual cue the three came to an awkward close. With the third improvisation Gayle again changed things up opening with a jaunty bouncing theme over a clip-clop march-like cadence from Ra and a walking line from Bankhead. Seemingly oblivious to his partner's rhythmic subtleties Gayle plowed right on through with a stride-like progression and several fractured trips down the length of the keyboard. Ra took an open opportunity for a solo on brushes and Bankhead finished things off with another strum fest. By this point I found myself eyeing the black saxophone case resting against Gayle's stool with increasing anticipation.


The group's fourth improvisation erupted at full tilt hitting a furious pace from the start. Ra was a dervish behind his kit banging out a volley of rhythms that continually rose in intensity. Gayle worked the harmonic end of the piece moving from tension to release as Bankhead thrummed out another furious counterpoint. After a brief solo by Gayle, Bankhead unsheathed his bow for the first time and commenced to sawing in a frenetic fashion similar to that of pizzicato work. At this juncture Gayle rose from his stool, picked up his horn case and moved to the back of the stage, standing in quiet and respectful contemplation. Minutes later, his tenor pressed to his lips, he began to blow long breathy tones which quickly coarsened into a unified Ayleresque shout. As if conjoined by a shared electric current uncontrollable grins crossed the countenances of the audience (myself included). Now things were really getting somewhere.

Rising to the occasion Ra renewed his vigor on his traps. Gayle leaned back on his heels stretching up, raising his shoulders and letting the spirit flow through. Behind him Ra, a blur of sticks and appendages, continued a charging rhythmic current. Unbeknownst to many, Roscoe Mitchell and Leroy Jenkins had taken seats at a table close to the stage and watching their beaming faces as Gayle blew the house down added even further the celebratory atmosphere. Gayle continued for a short spell at full speed before abruptly closing both the piece and the set out to uproarious applause.

Twenty minutes later a shorter second set ensued, with Gayle starting out on tenor and eventually moving back to piano for the conclusion. The character of round two was somewhat anticlimactic, but Gayle still managed to release a hoary rush of gospelized fervor with Bankhead and Ra in close tow. Both of the rhythm men trod much the same ground as in the initial pieces, but far from being redundant the vampish nature of their contributions only bolstered Gayle's own statements.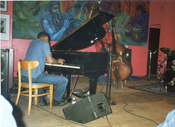 Shipp's set, which followed, was something of a comparative disappointment. Joining William Parker and Gerald Cleaver on the stage he sat patiently at his stool as the former—dressed in red and black striped dashiki, baseball cap and trousers—opened things up with a solo pizzicato preface. Cleaver eventually joined in, followed closely by Shipp who wasted no time in carving out dense pedal-altered clusters arching forward in his signature hunchback style of concentration. The density and velocity continued unabated for most of the remainder of the set—a single, uninterrupted improv that had Shipp touching on a range of thematic referents. Snatches of Monk, Ellington and others bubbled up in the frothing spontaneous stew, but the unmitigated opacity of the piece ultimately proved frustrating as well as exhausting. Though there were numerous ear and eye opening solo sections by all three players, and particularly Parker whose bow and fingers were a constant flutter of activity, overall the set just couldn't maintain its initial momentum to the finish. Shipp did provide a stunning contrast to Gayle behind the keyboard, but for myself, and I think many others who were still reeling in the throes of the latter's sermon, the monolithic nature of his set was even more difficult to digest. It was a definite thrill and privilege to witness both performances however; a sentiment I'm certain was shared by all who were present. If those of us in the Midwest are lucky both men will be back for return engagements soon.