Nina Simone : RCA Legacy Reissues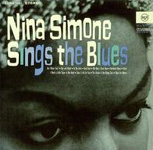 Born (as Eunice Wayman) in 1933, Nina Simone started recording in 1954 and hit it big in the late 50s with her early singles "I Loves You Porgy" and "My Baby Just Cares for Me". Anyone familiar with those two tracks will know how strikingly different they are, the former an emotion-drenched ballad, the latter a jaunty piano-driven groove. So it was to be for the rest of Simone's career. The diversity of the music she recorded was a blessing or a curse, depending on your perspective; from the listeners' point of view it kept us on our toes, never knowing quite what to expect next, but always knowing it would be real and moving. For those trying to market her, it must have been a nightmare.
Soul, blues, jazz, R&B, gospel, show tunes, pop, classical, folk… Simone was all of these and none of then; she chewed them all up and spat them out, altered, as her own. Her voice was a versatile and powerful weapon, capable of conveying a gamut of emotions. Most of all, Simone always had an edge about her, was always ready to confront any injustice, real or perceived, global or personal. Although dubbed "The High Priestess of Soul" in the mid-60s, that title only conveyed her quasi-religious intensity and her hauteur; she was never really soul in the way Aretha was—or jazz in the way Ella or Billie were. Nor did she want to be; as she observed, "Jazz is a white term to define black people. My music is black classical music." So, in what follows, forget trying to label the music.
During her career, Simone tended to label-hop (Bethlehem, Colpix, Phillips, RCA, CTI, Carrere, VPI, Verve… blah, blah, blah). The albums under consideration here date from her RCA period between 1967 and 1974, the longest she stayed with one label and one of her most turbulent and influential periods. Given Simone's role as an activist and social commentator, it is pertinent to keep in mind the social, political, and musical events that were the backdrop to this music. A lesson in American history is beyond the scope of this essay, but let it suffice to say that one cannot really appreciate the music without the context in which it was created.
Sings the Blues and Silk & Soul, both from 1967, were Simone's first two RCA albums. Taken together, they are as good as any of Simone's studio albums. In fact, that is rather faint praise, as Simone tended to record best in front of a live audience. Her studio albums could be curate's eggs, at their best without equal, but sometimes rather underwhelming, depending on the choice of material (maybe one reason why there are so many compilations of her music).
Sings the Blues is the more consistent of this pair (although Silk & Soul has the higher peaks). Largely without overt social or political content, it focuses more on the blues as earthy and sensual music. Original Simone compositions such as "Do I Move You?", "Real Real", and "I Want a Little Sugar in My Bowl" convey feelings of lust and yearning in equal measure; at her best, Simone could sound as lascivious as anyone. Meanwhile, tracks such as "Day and Night", "Since I Fell for You" and "Blues for Mama" are in more mournful blues territory, bewailing real and imagined misfortunes. By contrast, Simone's gospelized version of "House of the Rising Sun"—a song that can, even should, be mournful—successfully reinvents it as a surprisingly upbeat hip-shaker.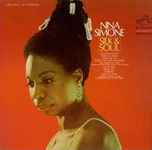 On Silk & Soul, two songs demonstrate its extremes. "Turning Point" is a deliberately childishly song that packs a powerful message about racism; however, it is sung in a little girl voice, and its naïveté means it does not stand up to repeated listening once one knows the punch line. The message is timeless, the music less so. By contrast, Simone's version of Billy Taylor's "I Wish I Knew How It Would Feel to Be Free"—with its distinctive piano hook—also carries a social message but it is as fresh musically as the day it was recorded, and never wears thin.
Lest these examples give the impression that Silk & Soul is a polemical diatribe, please note that there are such familiar romantic songs as Bacharach & David's classic "The Look of Love" and The Association's "Cherish". On the latter, Simone is double-tracked and harmonizes beautifully with herself. However—characteristically—she still manages to give the song a darker side, the double-tracking sounding at times like a split personality so that these lines seem downright sinister: "You don't know how many times I've wished that I could / Mold you into someone who could / Cherish me as much as I cherish you".
With the number of different labels she recorded for, there already exist a bewildering number of "Best of Simone" compilations from different phases of her career. Thankfully, Forever Young, Gifted & Black: Songs of Freedom and Spirit does not aim to be another of those, focusing instead on songs of the late 60s Civil Rights movement, for which Simone was a distinctive voice who invariably stood up to be counted. This certainly does not make for an easy listen; Simone was never looking to make audiences feel comfortable or safe, one of the main reasons that she was electrifying—she felt dangerous!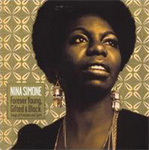 The opener (and closer, in a live version) is her own composition "Young, Gifted and Black", as influential a black anthem as "Say It Loud…" or "Respect", perhaps its only serious rivals. Arguably, it was more influential than either, given the effect its reggae version—courtesy of Bob & Marcia—had in Jamaica and beyond. Among other key tracks from her career included here are "Mississippi Goddamn" and "Ain't Got No / I Got Life", both given charismatic and discomforting performances. Much more routine are versions of "Turn! Turn! Turn!" and "The Times They Are A-Changin'"; they are obvious songs to include but, in truth, Simone does not really stamp herself upon them as she did at her very best, despite some beautifully atmospheric organ work on the Dylan song. Instead, they serve to dilute the potent mix around them.
Most of the key tracks on Forever Young, Gifted & Black feature Simone in concert. Crucial to the success of the compilation are tracks from the album 'Nuff Said, recorded live in April 1968, just days after Dr. Martin Luther King's assassination. The shock caused by it is tangible in Simone and in the audience. Simone gives an impassioned performance of Langston Hughes' "Backlash Blues" with its anti-oppression message; but it is "Why? (The King of Love Is Dead)", newly composed by Gene Taylor following King's death, that taps into the raw emotion of the time. Appearing here for the first time in its entirety (complete with Simone's spoken interlude: "Who can go on? Do you realize how many we have lost?... We can't afford any more losses. They're shooting us down one by one… The king of love is dead; I ain't about to be non-violent honey!"), it eloquently conveys the anger, despair, pain, fear, and uncertainty, tinged with just a little hope, felt at the time. As well as being powerful music, this is something else, something more; it is a powerful historical document.
In the latter years of her life, Nina Simone acquired a reputation—not altogether undeserved—for being unpredictable and irascible. I remember seeing her during a season she played at Ronnie Scott's in the 80s. It was a season plagued by uncertainty about whether she would take to the stage and—if she did—how long she would remain; more than once she stormed off in high dudgeon. Despite this (or because of it?) she gave some of the most electrifying performances audiences at the club ever witnessed. Nonetheless, that reputation came to overshadow the greatness of her music. Since her death in April 2003, a reassessment of Simone's place in history is overdue, so that the best elements of her musical legacy are emphasized at the expense of more sensational ones—may these releases accelerate that reassessment.