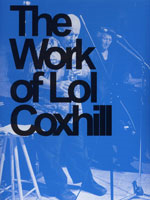 BOOK REVIEW
The Sound of Squirrel Meals : The Work of Lol Coxhill
Edited by Barbara Schwarz
(Black Press)
Perhaps the sort of player who only could have thrived in the ever-shifting scene that developed in the United Kingdom starting in the mid-1960s, soprano saxophonist Lol Coxhill is one of improvised music's most distinctive characters. In truth, the bulky, bald-headed Portsmouth-born saxophonist has always been a fellow traveller to improvised music, but never quite a card-carrying member. That's because his quirkiness—and need to make a living—has encompassed a multiplicity of gigs, most of which he's accepted with the same equanimity of spirit.
In other words he's been just as satisfied playing a featured role with punk band the Damned and other rockers as improvising with fellow reed masters like Steve Lacy and Evan Parker. He has been part of oddball vocal-and-instrumental groups like the Melody Four as well as more serious endeavors like the London Improvisers Orchestra. He has appeared as a TV and film actor. Plus he's spent days busking outdoors almost as often as he's been featured in proper concert settings.
As unconventional as the man himself, this scrapbook-sized volume, edited by Barbara Schwarz, has about as much in common with the standard jazz biography as jumble sale clothed Coxhill does with John Lewis, the impeccably groomed pianist of the Modern Jazz Quartet. Organized in several sections, The Sound of Squirrel Meals is made up of a short biography; reprinted interviews with the saxophonist from the 1970s to 2002; a chronology of his recordings as leader, band member, and sideman on CDs, CDRs, LPs, 10-inch LPs, EPs, cassettes, 45s, and 78s—including reissues and bonus tracks; a similar chronology of his film, TV, and video appearances; a bibliography; and an alphabetical discography of every Coxhill session then extant, complete with song titles, recording dates, and personnel. No explanation of the book title is offered.
To keep this from appearing too much like an academic treatise or a fan's obsession, Schwarz has broken up the text with a variety of illustrations, including album covers, drawings—of and by Coxhill—and photos. These range from Coxhill carrying a Union Jack as a teenaged Boy Scout, marching in white face as part of the communal political consortium, the Welfare State, in the 1970s, plus performance shots of the saxophonist in bands such as the Recedents with similarly bald-domed percussionist Roger Turner and guitarist Mike Cooper and on his own. Original commentary by Coxhill is appended to the descriptions of most of his recorded projects.
Born in 1932, Coxhill was initially attracted to bop and R&B, while developing his own style of improvisation. Unlike his slightly older compatriot, guitarist Derek Bailey, who made quite a good living as a commercial guitarist before tuning to improv, Coxhill was trained as a bookbinder. Although he was playing semi-professionally by the 1950s and was once characterized by New Musical Express as "the Thelonious Rollins [sic] of British Jazz" he was the epitome of the jobbing musician, only quitting his factory job in 1965. In dark glasses, black turtleneck, and loud check plaid jacket, the already bald, then tenor saxophone-playing Coxhill backed visiting American soul singers, and was part of the local blues/R&B scene in bands led by guitarist Alexis Korner.
Already playing solo intermission gigs at jazz clubs, by the 1970s he developed simultaneous careers as an actor—eventually he would have featured roles in films by directors Derek Jarman and Sally Potter; as a member of audacious big bands like Centipede and the Brotherhood of Breath; as a free improviser as part of Bailey's Company weeks and with drummer John Stevens' Spontaneous Music Ensemble; and as a sideman in progressive rock bands, including those led by bassist Hugh Hopper, singer Robert Wyatt, and singer/guitarist Kevin Ayers.
His two-year, on-and-off association with Ayers' Whole World band came about after the rocker saw and heard Coxhill busking near a London bridge. Although in 1972, the saxophonist referred to busking as "open-air concerts for anyone who wants to listen", insisting he never busked to live, only for extra money, it's hard to imagine unbending performers such as Bailey putting up with playing outdoors for ten hours at a stretch, and sporadically having his instrument damaged and being physically attacked by unhappy, music-hating passers-by.
Coxhill's sense of humor probably served him in good stead here, as did his theatricality, also expressed in agitprop aggregations like the Welfare State. But those two qualities became paramount in his long-standing gigs with semi-satirical combos such as the Johnny Rondo Trio and especially the Melody Four. Consisting of the saxman plus other British jokesters like pianist Steve Beresford, the songs covered by the Four ranged from Groucho Marx's "Lydia the Tattooed Lady" and Doris Day's "Secret Love" to "the Latin classic 'Besame Mucho'". The band also showcased Coxhill's semi-pro vocals as well and recorded original ditties such as the reedist's own "Surfing Sausage": "Silly little surfing sausage/ What a funny saus is she/ Cares not that it's impossible to surf/ When it's time for tea…". The group went a long way in setting him apart from most dead-serious free music players, who are as divorced from humor as they are from bar lines.
Considering that despite this, Coxhill continued to play with top echelon free musicians from the U.K., Europe, and North America—along with improvisers and the odd rock band—confirms his talent and individuality, as well as the respect in which he's held by other musicians. Today, at nearly 74, he's an undeniable presence on the scene.
Lacking analysis and insights—except from Coxhill himself—the book is only tangentially related to jazz scholarship. Not that there's any pretense of that, of course. The Sound of Squirrel Meals is a light read to be dipped into and out of, perhaps while listening to your Coxhill CDs. Still, if you have an interest in the saxophonist, British improv, or the unclassifiable music that has flourished in some circles in the United Kingdom during the past 40 years, you'll probably enjoy the details in this volume.