Dee Dee Bridgewater
Oakland CA, 23 October 2005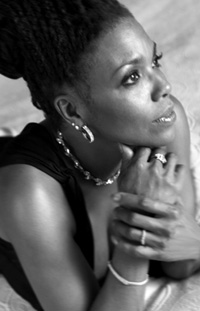 Dee Dee Bridgewater takes the stage with a dizzy brio that would embarrass a flock of singers half her age. She spins and slides around, gripping a cabled mic, the fingers of her free hand playing whatever air-instrument suits her in the moment. It's almost fidgety, but then she'll swoop down in a big arc and shout a whole note at the foot of the stage; it seems to go on forever, echoing down your spine. She feeds off the energy of the audience in a way that drives her into ever-looser states of manic ecstasy as the night goes on. She takes generous times-out between numbers to share a wide range of near-intimacies with her listeners, after which she'll launch her next number, perhaps a high-flying standard at a blurred tempo, just to remind everyone in the house that the night belongs to her. The congregation gets knocked back in their chairs, and heads start to bobbing, feet to furious tapping.
On this particular night in Oakland, Ms. Bridgewater noted more than a couple of times how much crazy she was putting out. "It's natural, I'm sorry to say—I haven't even had a cup of coffee." Later on she allowed herself ten minutes, at the pivot-point in her hour-plus set of French love songs, to crawl about on the stage, hunting for a dozen or so uncut rubies that had flown off her necklace during the previous tune's exertions; mic in hand, she explained what she was doing, and how and why she had bought such a fabulously expensive piece of adornment—"Girlfriends, sometimes I just have to be 'Dee Dee Bridgewater', you know what I mean," she joked, putting a primadonna emphasis on her name—as her band cracked up around her. It's hard to believe that this diversion was planned, but one couldn't have asked for a more apropos set-up for the next number, a delightfully funked-up Parisian discursion on Neal Hefti's "Girl Talk". (Who'd have thought barbecued Crepes Suzette would be so delicious?)
I asked my companion, a longtime superfan of the singer, if Ms. Bridgewater were merely experiencing an especially wacko night, but immediately the reply came: "She's always this out there." Dee Dee shares a girly, joyous spirit with Anita O'Day—you can practically see the smile in every note—but some part of her sometimes descends into a giddy, free-associative romper room. Parents in the audience might be reminded of a four-year-old, high on coffee ice cream; it's that time when you just have to stand back and let 'em run their batteries down (and it always takes far longer than you thought). Right at the brink of silliness, Ms. Bridgewater jumps back, and her profound command of the jazz lexicon and dramatics steps in to say, "This ain't no child's play." Sometimes, though, the emotive rollercoaster can give you whiplash: The climax of the show would seem to be the heartbreakingly, achingly slow ruminations on "The Good Life" (original French title: "La Belle Vie"), but as soon as the last note died the band jumped on "La Vie En Rose" at a derby gallop, replacing the melancholy magic in the air with a suspension of time of a breathless, hyperactive sort. It takes nerves of steel to stay with her during these jump cuts, but it's always worth hanging on for the ride.
One need not wax over her voice in the well-worn terms of "purity" and "gracefulness" because that's not her game. The tone Ms. Bridgewater brings out is raspy and grows raspier in the course of a set, yet its richness conveys years of living a fulfilling life. Her word formations are precise only so far as her dramatic and musical needs dictate—which is to say, they're all over the place, all the time. In the unraveling of one syllable she may traverse a mountain of pitches, timbres, and emotive notes. Thankfully, and unlike far too many crooners these days, she doesn't seem to feel the urge to mangle every other word with a show-stopping display of glossolalia. Her pitch is not perfect but "relative", as she called it, when once comparing herself to the gold standard, Sarah Vaughan. Relative to 99% of the players and singers on the scene today, it's perfect enough. If she ever missed a pitch that night, nobody heard it but her.
What indisputably is perfect is Ms. Bridgewater's command of the room. Her presence is a far cry from the frosty corporate perfection that glazes over so much of jazz today. Onstage, Dee Dee Bridgewater evokes legendary, vulnerable performers of the kind who take real risks and yet convey the impression there's no place they'd rather be, nothing they'd rather be doing. She lovingly gives a comforting, human-dimension show; she doesn't just jazz up some songs with brilliant licks and clever charts. She awakens possibilities in your head, she opens up the world and colors it beautiful. Her music adds something positive to your life. At the end of the night at Yoshi's, the singer had shared so much of herself she seemed unwilling to quit the stage and take leave of her new roomful of friends. We returned the feeling, gratefully.
The set list closely followed the form of Ms. Bridgewater's recent album J'ai Deux Amours, starting with the title tune (respectfully dedicated to Josephine Baker, the original American in Paris):
"J'ai Deux Amours"
"La Mer (Beyond The Sea)"
"Ne Me Quitte Pas"
"Mon Homme (My Man)"
"Et Maintenant (What Now, My Love?)"
"Que Reste-T-Il De Nos Amours"
"Dansez Sur Moi (Girl Talk)"
"La Belle Vie (The Good Life)"
"La Vie En Rose"
The majority of the material, while Francophilic, should be familiar to American listeners. In a series of cagey, understated arrangements, Ms. Bridgewater's band artfully bridged the waters between Europe and America, too (and threw in plenty of rhythmic spice from around the globe, for good measure). On accordion (one of those devilishly tricky non-keyed ones) was Marc Berthoumieux, a virtuosic heir to the café jazz tradition of Gus Viseur—urbane and unflappable, adding just the right bits of jazz inflection. Guitarist Louis Winsberg coolly held the other end of the stage, using an amplified acoustic guitar, which kept his sound just under the fulcrum of the mix. He got his chance to fly near the end of the set, during a breakneck "La Vie En Rose", and proved he could hold his own in any DiMeola-style arm-wrestling match. On bass was Ira Coleman, who's been with Ms. Bridgewater ten-something years, and who unobtrusively kept everything sailing. Argentinean percussionist Minino Garay proved to be something of a scene-stealer, cracking up during one vocal duet with the leader and causing her to lose the thread. She didn't seem to mind one bit, and took advantage of the occasion to spotlight Garay's fantastically eclectic, earthy playing and scatting. The J'ai Deux Amours project has been one ten years in the creating, and one place it showed was in the easy rapport Ms. Bridgewater shares with her bandmates. And after ten years, there's not a hint of staleness in their presentation—Dee Dee's welcoming, improvisatory spirit sees to that.
Cheers to Yoshi's sound crew, who mixed perfectly and kept the sound levels tolerable. (Aside: This in contrast to the last show I attended there, a dreary, chops-flexing brawl between Bill Evans, Darrell Anger, and Bela Fleck, all amplified to stadium levels.)