Sam Rivers Trio
Houston TX, 6 April 2002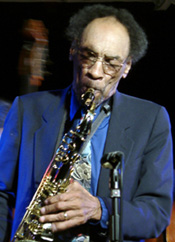 There is a select cadre of musicians who have attained such lofty status that an appearance in concert is cause for significant celebration. Sam Rivers is just such an artist. From the 1960s and throughout the ensuing decades, Rivers has produced demanding and uncompromising music despite the pressures from the commercial world. Stories and recorded documentation of his 1970s loft sessions at Studio Rivbea in New York are legendary; his recorded work on albums by Cecil Taylor, Dave Holland, Tony Williams, Max Roach, Bobby Hutcherson, Thurman Barker, Bill Evans, Arthur Blythe, Don Pullen, Dick Griffin, Barry Altshcul, and others speaks volumes for his resourcefulness; and his large body of recorded material as a leader of small groups and big bands are prized examples of his huge artistry.

Rivers and his new and highly versatile trio of Doug Mathews on bass and bass clarinet, and Anthony Cole on drums, piano, and tenor saxophone, spent a week in residence at MECA (Multicultural Education & Counseling through the Arts) in Houston where he shared insight, counseled, and performed with aspiring young inner-city students. It culminated with a public concert, thanks to the efforts of the Pauline Oliveros Foundation Houston, which was responsible for bringing this band to town. Although the concert season is just getting underway, this event most likely will rank as the year's highlight.

Rivers opened with a spontaneous improvisation on soprano as he proclaimed "Never to be repeated again." This set the stage for the exciting evening to follow. He blew freely while Cole on drums and Mathews on electric bass extended the fray. From the initial notes, it was evident that Rivers is conceding nothing to Father Time. At a mellow 78, he displays the intensity of a musician half his age. From there, the band moved into a series of noted Rivers' tunes, including "Ripple", which has flowing, graceful lines and a beautiful melody to accompany the spirited improvisations the tune encourages. Switching to tenor, Rivers played with gusto with his celebrated circles of spiraling sound. His updated rendition of "Beatrice", the dedication piece to his wife of 55 years, was true enchantment. On piano, he was a gushing well of productivity, prancing over the keys with nimbleness. The flute was incorporated into numerous selections, particularly the funky piece that served as an extended break and end song. The most evident characteristic of Rivers was his delight in playing. He frequently injected his voice in whooping response to the vibrations surrounding him, which of course resulted in a similar call from the audience.

Rivers must get some of his energy from his associates, for these younger musicians are a spark of life and a commanding multitalented team. Cole was a mini dynamo on his abbreviated drum kit. With just a snare, bass drum, and cymbals, he created a whirlwind of energy. Mathews alternated between electric and acoustic bass and was the vital heartthrob of the music that joyously danced to the gaiety of life.

What makes this trio so exciting is the flexibility of each member. Rivers of course is noted for playing three reeds and piano on nearly all his recordings, but Cole and Mathews fit a similar mold. Cole joined in on tenor with Rivers and moved over to the piano chair for an intriguing solo of melodic yet challenging improvisation. Mathews stretched out on a lengthy and delicate acoustic bass solo and went to the bass clarinet as an alternate form of low-end rhythm.

Some of the most exciting sounds came from the reed trio. The interlaced passages were delicately constructed to reveal the intricacy that surrounds a Rivers composition. Mathews held down the bottom range on bass clarinet and Cole the midrange on tenor while Rivers played either soprano or flute. These interludes kept the program in a continuous mode of change to the pleasure of the very enthused crowd. The two sets from this trio sent a vital message denoting passion for the music and artistry in its execution. The world is blessed to have musicians such as Rivers as an on-going source of inspiration. May he continue to thrill for many years to come.