Prestige Reissues : Jaki Byard & Prince Lasha


Though Prestige's reputation thrives for the most part on classics by big-name artists like Miles Davis, Thelonious Monk and John Coltrane, they've got more than a few outside gems lurking in the dim corners of their catalog. As they slowly reissue some of these lesser-known sessions on CD, the label is helping to fill in some serious gaps in the history of 1960s progressive jazz. These two discs by Prince Lasha's quintet and Jaki Byard definitely fall into this category—long sought-after by today's jazz aficionados, their first appearance on CD is a major jazz event.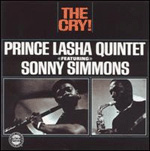 The Cry! marks the recorded debut of Sonny Simmons, who would move on to become one of free jazz's key figures later in the decade. The groups he co-led with Texan expatriate Prince Lasha were modeled on Trane's short-lived association with Eric Dolphy—the combination of two forward-thinking, multi-instrumentalist players and composers and an elastic rhythm section offered a wealth of possibility in the wake of Ornette Coleman's Free Jazz experiments with non-traditional ensemble settings. While the entire quintet only appears on five of the session's eight tracks, it's an audacious vibe throughout as Lasha and Simmons' compositions strike a perfect balance between traditional and modernist schools of jazz thought. The pieces range in style from the hip modalism of "Congo Call" and the joyous Afro-Cuban shades of "Juanita" to swinging freebop tunes like "Bojangles", "Red's Mood" and "A.Y.", all of which feature Gary Peacock's bass as a prominent anchor—an especially interesting fact if you consider that he would be helping Albert Ayler earn his stripes as Jazz Heretic #1 in less than two years from this session. The key performance here, however, is the pared-down Simmons/Peacock/Gene Stone barnburner "Lost Generation". Simmons' unaccompanied introduction shows the prospects of solo saxophone long before it was turned into an academic study—playing with a fluid melodicism that can only be heard to be believed.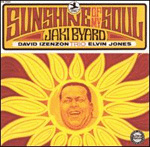 Sunshine Of My Soul is something of an anomaly in Jaki Byard's discography. Though his earlier work with Mingus, Booker Ervin or his own ensembles always held a certain ideological sympathy with the more devout free jazzers of the day, this is the only time he really took up the cause. Most likely due to the fact that his trio is completed by Ornette Coleman's bassist and John Coltrane's drummer—David Izenzon and Elvin Jones—there's a loose freedom to these performances that isn't witnessed on a Byard record before or after. That's not to say that the pianist is entirely out of his element; he sounds equally at home using left-hand arpeggios to compliment Jones' signature polyrhythms on "Sunshine", moving into early Cecil Taylor mode for the conclusion of "Chandra", or pitting his considerable ragtime chops against Jones' rubbery tympani and Izenzon's bow-swipes in the beautifully peculiar intro and coda to "St. Louis Blues". It's only "Trendsition Zildjian" that might be considered a dubious success. The most fully freeblown piece on the record, it's the only moment where Byard's inexperience as a free player shows—he's a whirling dervish behind the keyboard to be sure, but the lack of thematic development becomes slightly tiresome after eleven minutes have come and gone.

Although their label is really the only thing these two recordings have in common, their historical importance separates them from the mundane pack of reissues and repackagings that clog the new release bins at the record store. Given the amount of classic and previously unavailable free jazz sessions that have seen the light of day since the new millennium began, these two discs only help to further the completion of the music's historical puzzle.