Tribute To Julius Hemphill : The Fifth Annual Vision Festival
New York City, 29 May 2000


For the last three years, the Vision Festival in New York has honored, on the last night of the concerts, a deceased member of the jazz movement. In 1998, Jimmy Lyons was the honoree, in 1999, Denis Charles was remembered, and this year the tribute was paid to Julius Hemphill, the outstanding musician, composer, arranger, and teacher who died on April 2, 1995. He was the founding father of the St. Louis Black Artists Group and was a charter member of the World Saxophone Quartet, for which he became the most significant arranger and compositional contributor. His own groups were dynamic examples of innovation that focused on his extremely diverse talent for expressing freedom through the structure of written material. This Vision Festival tribute included several artists who had worked with and been influenced by Hemphill, as well as others who were inspired by him. Festival director Patricia Nicholson and her staff are to be commended for once again assembling a stellar lineup of creative musicians and artists who collectively presented a rewarding remembrance of an outstanding talent.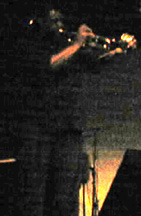 Baikida Carroll has a larger-than-life presence on stage, and his trumpet sound is equally compelling. He was a member of Hemphill's band on Julius's first two recordings, the infectious Dogon A.D. and its successor Coon Bid'ness (a.k.a. Reflections). For this opening set of the Hemphill tribute, Carroll toyed with an array of mutes to change continually the tonality of his stark playing. He used short blasts of a few seconds each to make his statements, all of which were devoid of frills or embellishment. He explored trumpet sound relationships over the entire register and also used a technique of blowing air through the mouthpiece to emit only the sound of the lonely wind whistling down the bell of his horn. Gradually, he developed his solo with more fluid playing that continually reverted to a theme statement, only to spring off the theme into more extensive explorations. The highlight of the set occurred when Carroll switched to flugelhorn and played a mournful rendition of his hauntingly beautiful composition "I Thought You Knew". His tribute to Hemphill evolved as an introspective and personal expression of respect.

As a backdrop to Carroll's playing, numerous examples of the artistry of Jeff Schlanger were projected onto a huge screen as he created instant new art through the inspiration of Carroll's performance. Schlanger has been a fixture at all Vision festivals, frantically characterizing the artists and capturing the intimacy of each performance. Watching him work is an exciting event. He paints in time with the music, so when the sound gets wild, he is equally aggressive in pouring paint onto his pad. Several of his pieces were on display as part of the artistic collage Vision represents. Seeing him capture the essence of a set in the same timeframe as the performance, however, is a performance in itself.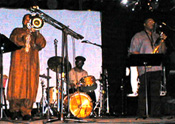 The next dynamic trio opened their set with a powerfully rhythmic Hemphill piece set to the driving drums of Pheeroan akLaff, the ritualistic trombone of Joseph Bowie, and the spiraling alto of Oliver Lake. Lake, of course, was a member with Hemphill in the World Saxophone Quartet and also played in duet with him on Buster Bee. This performance was a set-long reworking of the heady Hemphill composition "The Hard Blues". The tune itself is one that elicits excitement, and in the hands of these three veterans, it worked its magic once again. Bowie was agile and aggressive on his trombone, blowing blasts of sound with machinegun rapidity while akLaff took off with overtly demonstrative drumming. Bowie augmented the percussiveness of the set by manipulating an array of rattlers, shakers, and an African drum, providing an additional spark to the already forceful performance. Lake's soaring solos reinforced his status as a premier player of the new music. He alternated between alto and curved soprano, spewing out lengthy runs with constant intensity as he and the band interpreted the famous Hemphill composition. The performance was an extended example of free improvisation that had punch and power. As they brought the piece back in with the theme statement, attendees could be seen and heard humming the engrossing melody while the musicians built it to a peak of excitement. Hemphill would have been pleased.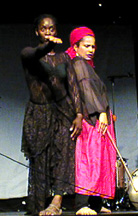 Dancer Maria Mitchell and violinist Terry Jenoure performed a rite of theater with music that had a unique way of remembering Hemphill as an inspiration to their artistry. Jenoure will be familiar to all that have enjoyed the exciting John Carter five-part suite entitled Roots and Folklore: Episodes in the Development of American Folk Music. Her violin and voice are dominant on that wonderful collection, and the same magnetism came through with her performance with Mitchell. Mitchell is a daring, freelance interpretive dancer who lithely flies through the air with venturesome moves and intimidating gestures. She and Jenoure entered into a game of cat and mouse as Mitchell toyed with the violinist through her dance movements. She cajoled and taunted until there was a meeting of the minds and bodies. Jenoure's playing was soulfully spiritualistic, soaring in unison with her beautiful voice that accompanied her strings. Mitchell's moves were in keeping with her stark demeanor—challenging and defiant while simultaneously being extremely graceful. She turned and twisted her supple body while Jenoure spurred the action with emotional playing. The two women formed a very artistic team while seamlessly uniting, into one, the three art forms of dance, music and theater.

No greater tribute could be paid to Hemphill than through the perpetuation of his music by a band he conceived and nurtured. The Julius Hemphill sextet grew out of Hemphill's departure in 1990 from the World Saxophone Quartet and brought a different aspect to all-reed ensembles. They made three albums, one with Hemphill in 1991 (Fat Man and the Hard Blues), one directed by Hemphill in 1994 (Five Chord Stud), and the third in 1997 as a commemorative after Hemphill's death (At Dr. King's Table). The band reunites irregularly to keep his music in the forefront, and on this evening, they were at their sparkling best. With original members Marty Ehrlich, Sam Furnace, and Andrew White plus Andy Laster, Alex Harding, and Aaron Stewart, the sextet captivated a very large crowd that was put into the spirit of gaiety and happiness through the execution of Hemphill's songs by this stellar cast.

The band uses a structured facade as a gateway to more riotous blowing. Individual soloists expound and give way to collective improvisation. Ehrlich, on alto, soprano, and bass clarinet, appears to be the traffic director, but little direction is needed for this group of pros. They are a disciplined bunch who ignite at any instant with spontaneous interaction. White was a significant factor and a scene-stealing showman who pleased the crowd as he wailed on tenor while Harding huffed and puffed on baritone in playful combat. The group often broke down into duet or trio formats and then reformed with sextet thunder. They hit a spiritual high when all six collectively improvised, bringing fire and brimstone to the bandstand. They pranced through a series of Hemphill tunes, including among others "Otis' Groove", "Flush", "What I Know Now", "Mirrors", "Spiritual Chairs", and exploded on "The Void", an evolving freeform piece of collective interaction that emerged from a structured opening. Everyone had a moment in the spotlight. Laster shined on alto with a lengthy solo, Furnace burned on his alto, Stewart did the same on tenor, and so it went for the entire set. The highlight of the performance was the riotous "Dogon A.D.", a tune that defies you to sit still. The band paraded through the audience playing the ritual piece while the crowd roared admiringly. As an encore, they did a short ballad that summed up the beauty of Hemphill's music. It was a wild and delightful set put on by dedicated musicians.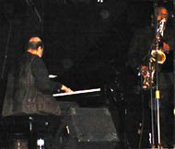 David Murray and Dave Burrell were reunited for a fitting closing to the Hemphill tribute and the 11-day Vision Festival. Murray said it had been over three years since they played together, but the magic they generated in the past was easily recaptured. Murray was in a feisty mood on this night. He opened with one of his compositions by blowing fiercely in the high register to set the radical stage. Burrell, a seemingly mild-mannered man, had the opposite composure. He played his methodical block chords to start a composition of his and took the theme deeper and deeper into a hypnotic world with highly resonant playing that emphasized the bottom end of the sound spectrum. His pounding became more aggressive, and he used his fists and palms to maintain the deep, droning, and dark impression. On another tune, Burrell played the bass line with his left hand and tinkered with a blues-syncopated beat with his right. Whereas Burrell waltzed with lilting phrases true to his style, Murray was aggressive and agitated, playing with fiery drive. The collision of these opposites made the music significant, allowing each to express himself in his own way.

Although the two took turns playing their own compositions, their featured song was in salute to Hemphill on Murray's "Requiem for Julius". It was a beautifully executed ballad that brought out all the passion and emotion Murray had contained in him. Burrell established the rhythmic pulse while Murray, on bass clarinet, reached into his inner soul. The two were on stage for over 80 minutes in an extra-long set. In between songs, Murray and Burrell took the mike to reiterate short vignettes on their association together. Murray also took an expressive position on the relationship of Hemphill and the WSQ. He made a bold assertion that the separation was financially equitable and that there were two sides to every story. Most were amazed that he even broached the subject, but he said he wanted to set the record straight on Hemphill's departure from the band. Still, he did not reveal all the scuttlebutt. His most moving statements were in high admiration for the genius that was Hemphill. There was no question on his sincerity on this matter.

It was the music, though, that captivated the late-night crowd, and Murray and Burrell showed that old spark that has made each of their prior unions significant. It was a moving way to culminate the festival.